Stocks Jump After Fed Raises Rates, Plans For Six More Increases This Year – Forbes
The stock market moved higher in volatile trading on Wednesday after the Federal Reserve raised interest rates by 0.25% and signaled six additional hikes later this year, as the central bank looks to ease concerns about surging inflation and the economic impact of the Russia-Ukraine crisis.
Federal Reserve Chairman Jerome Powell.
Stocks initially pared back gains following the Fed's announcement—with the Dow Jones Industrial Average at one point giving up a 500-point gain—before rebounding.
The Dow rose 1.4%, nearly 500 points, on Wednesday, while the S&P 500 gained 2% and the tech-heavy Nasdaq Composite 3.5%.
The central bank raised interest rates, by a quarter percentage point, for the first time since 2018, while Fed officials also predicted six additional rate hikes in 2022 (up from a previous forecast of three increases this year).
Markets initially got a boost Wednesday morning from hopes of a possible ceasefire agreement in the Russia-Ukraine war, with Ukrainian President Volodymyr Zelensky saying in an address on Tuesday that a deal was beginning to "sound more realistic," while Russian Foreign Minister Sergei Lavrov expressed "hope" for an agreement.
The heavy fighting in Ukraine has weighed on markets since last month, and while Ukrainian forces have held off attacks on several major cities, the country continues to call for more aid from the West, with Zelensky addressing the U.S. Congress on Wednesday morning.
Oil prices, which have jumped in recent weeks due to the conflict between two major exporters, at one point surged to a multi-year high of $130 per barrel before moderating somewhat and now sitting at just below $100 per barrel.
"The main focus for Wednesday (by far) will be the Fed . . . although investors will also be watching for any updates out of the Russia-Ukraine peace talks," though "more time" will be required for an agreement, says Vital Knowledge founder Adam Crisafulli. Stocks are falling after the Federal Reserve's statement was "more hawkish than anticipated" due to an "accelerated pace of tightening" forecast for this year and next, he says.
Investor sentiment has grown increasingly bearish this month, with expectations for global economic growth plunging to their lowest level since the Great Financial Crisis of 2008, according to a recent Bank of America fund manager survey. Over half of those surveyed now predict that stocks will fall into a bear market this year and the U.S. economy will be plagued by stagflation—meaning high inflation and slow economic growth.
Fact check: Here's the truth about crime in Manhattan
As former President Donald Trump and his allies attack Manhattan District Attorney Alvin Bragg, who is prosecuting Trump on felony charges of falsifying business records, the Republican-led House Judiciary Committee is holding a hearing Monday in Manhattan to castigate Bragg for his handling of violent crime.
But Trump and other Republicans, including committee Chairman Rep. Jim Jordan of Ohio and former Vice President Mike Pence, have made false claims about the crime situation in Manhattan and New York City. Contrary to their claims in recent weeks, neither the borough of Manhattan nor the city as a whole has been even close to a record level of crime, violent crime or murder since Bragg was sworn in as Manhattan's top prosecutor in 2022.
And Bragg's office is correct when it points out that Manhattan has experienced declines in key crime categories so far in 2023 compared with 2022. However, it's also true that many of Manhattan's crime numbers increased in 2022 compared with 2021.
It's impossible to quantify how much Bragg had to do with either the 2023 decrease (it's early in the year) or the 2022 increase (which was a continuation of a trend that began months before Bragg was elected in 2021); in general, it is extremely difficult to determine how much any jurisdiction's crime numbers, positive or negative, can be attributed to the local district attorney. There is always a complicated mix of factors at play, from the economy to policing to the corrections system to social policy to the weather to, since 2020, the Covid-19 pandemic.
"We have a tendency to want to blame one person, or credit one person, when in reality these are complex systems that rise and fall for often complex, random reasons that we don't have the ability to explain – but it's easier to say, 'It was Joe Schmoe over there,'" said Jeff Asher, a crime analyst and consultant and co-founder of the firm AH Datalytics.
Here's a look at what Manhattan crime numbers actually show and do not show.
Global EV sales jump 66% in 2022, lifting market share to 9.5%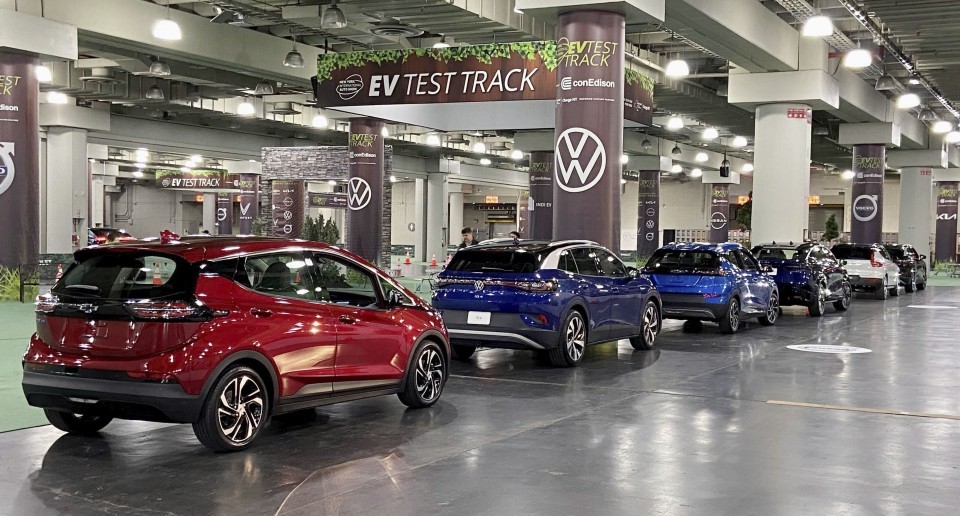 Global electric vehicle sales climbed 66.6 percent in 2022 from a year earlier to 7.26 million units, data from a research firm showed Saturday, reflecting a rapid shift in the industry to zero-emission vehicles to meet stricter emission regulations.
The number accounts for 9.5 percent of overall auto sales of 76.21 million vehicles last year, expanding from 5.5 percent in 2021, according to Tokyo-based MarkLines Co.
European and Chinese automakers are boosting EV sales, while Japanese carmakers strive to catch up with global rivals.
Honda Motor Co., for example, has teamed with Sony Group Corp. to set up a 50-50 venture to make new electric vehicles. Toyota Motor Corp. plans to expand its all-electric vehicle lineup and boost its EV sales to 1.5 million vehicles annually by 2026.
Excluding EVs, global sales fell 7.4 percent to 68.95 million vehicles.
By market, China posted an about 80 percent surge in EV sales to 4.53 million vehicles while Western Europe including Germany and Britain saw EV sales soar by about 30 percent to about 1.53 million vehicles.
Approximately 800,000 EVs were sold in the United States last year and 50,000 in Japan.
Among EV makers, the leading manufacturer, Tesla Inc., boosted sales to around 1.27 million vehicles in 2022 from about 880,000 the year before. Chinese EV giant BYD Co. sold approximately 870,000 vehicles last year, compared with 320,000 the previous year.
The alliance of Nissan Motor Co., French partner Renault SA and Mitsubishi Motors Corp. ranked seventh with sales of about 280,000 EVs.
Toyota, the world's largest auto seller, sold 24,000 EVs in 2022, according to the company.
==Kyodo.
Saints had options at wide receiver in Mel Kiper's latest two-round mock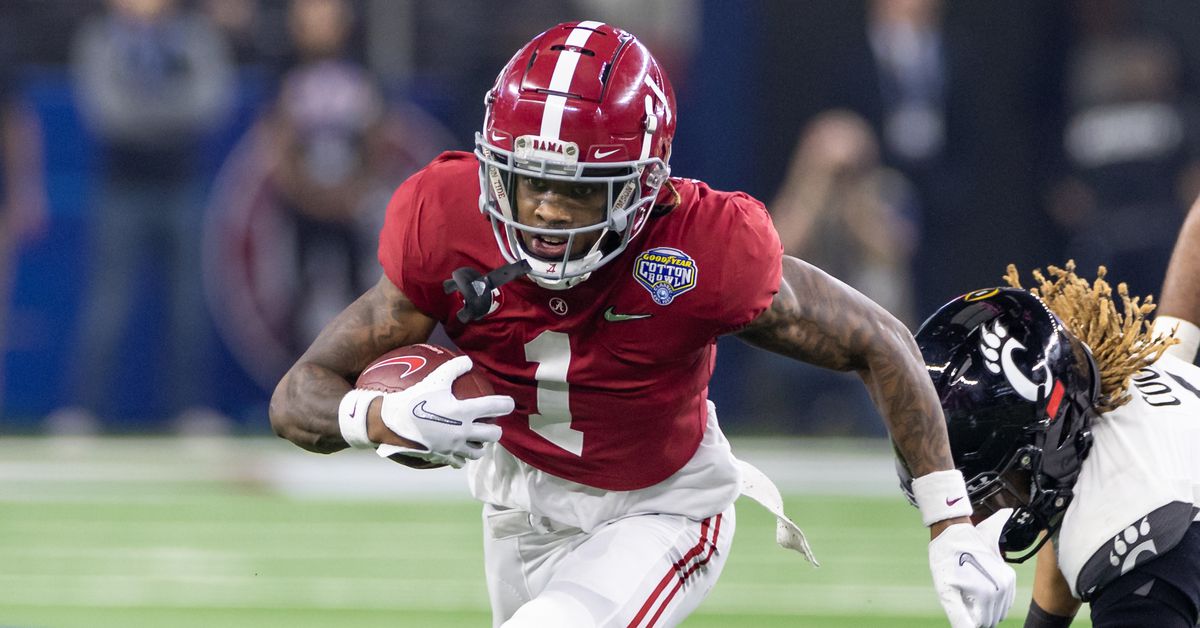 The Saints add two offensive players with their first three picks.
Another day, another mock draft. This time it's ESPN's Mel Kiper, Jr.'s recent two-round mock draft (Insider required) that has the New Orleans Saints address their top three positions of need with their first three picks.
A run of receivers in the first fifteen picks, including Ohio State WR Garrett Wilson (8th overall to the Atlanta Falcons), USC's Drake London (10th overall to the New York Jets), and Ohio State WR Chris Olave (15th overall to the Philadelphia Eagles), left the Saints without a bunch of options at the 16th pick. Tackles Ikem Ekwonu out of NC State (5th to the Giants), Alabama's Evan Neal (9th to the Seattle Seahawks), and Mississippi State's Charles Cross (13th to the Houston Texans) left the Saints without many options there either. Quarterback Malik Willis out of Liberty was also off the board, landing in the NFC South to the rival Carolina Panthers 6th overall.
This left some of the top prospects on the board as LB Nakobe Dean out of Georgia, LT Trevor Penning out of Iowa, DT Jordan Davis from Georgia, Pittsburgh QB Kenny Pickett, and Alabama WR Jameson Williams, all of whom fit with the Saints needs.
In Kiper's mock, the Saints passed on Kenny Pickett and instead opted to replace Terron Armstead on the left side of the offensive line by selecting Trevor Penning:
16. New Orleans Saints (via PHI/IND)
Trevor Penning, OT, Northern Iowa
Speaking of the Saints, I have a hard time believing the trade with the Eagles was to take a quarterback. Why wouldn't they try to move up higher? (Unless there's another move to come.) It's possible they think they are NFC contenders this season and could be put over the edge with two more starters. With that in mind, here's a tackle who could replace Terron Armstead on the left side. Penning is a nasty, physical blocker who is ready to play immediately.
In the two picks immediately following the Saints' selection at 16, the pair of Georgia defensive players – Nakobe Dean and Jordan Davis – were picked, leaving the Saints with yet another opportunity to draft Kenny Pickett if the team so desired.
Instead, the Saints take the best receiver on the board, picking Alabama's Jameson Williams:
19. New Orleans Saints (via PHI)
Jameson Williams, WR, Alabama
Even if Michael Thomas comes back healthy, the Saints should address wide receiver with one of their two first-round picks. Williams would have been in the discussion to be the No. 1 wideout in this class, but he tore his ACL in the national title game in January and could miss a little time in 2022. He could be a superstar once he's healthy; he has explosive speed and was uncoverable for the Crimson Tide last season. ACL injuries aren't even close to career-ending anymore, so I don't see this as a risky pick. Williams is worth it.
Pickett ended up going one pick later to the Pittsburgh Steelers, and fellow RAS-star, Cincinnati QB Desmond Ridder, was the first quarterback taken in the second round, 40th overall to the Seattle Seahawks.
When the Saints were on the clock with the 49th pick, they had plenty of options still at quarterback (North Carolina's Sam Howell, anyone?), and grabbed Ole Miss signal-caller Matt Corral:
49. New Orleans Saints
Matt Corral, QB, Ole Miss
Corral is a tough evaluation. He wants to play like Josh Allen but doesn't have the size — he's only 6-foot-2. He was the only player in the country last season with 3,300-plus passing yards and 500-plus rushing yards. Will he be able to consistently make every throw in the NFL? That's why I think he's a safer bet on Day 2. He would make a lot of sense in New Orleans, where he could get an evaluation year behind Jameis Winston.
Options available for the Saints at 49 if they passed on Corral included wide receivers like Western Michigan's Skyy Moore, Alabama's John Metchie III, and Cincinnati's Alec Pierce; Michigan State running back Kenneth Walker III; and a pair of tight ends in UCLA's Greg Dulcich and Colorado State's Trey McBride.
That left the Saints with QB Matt Corral, LT Trevor Penning, and WR Jameson Williams from their first three picks in the 2022 NFL Draft. Other possible sets include QB Kenny Pickett, WR Jameson Williams, and T Abraham Lucas; DT Jordan Davis, WR Christian Watson, TE Trey McBride; or even LT Trevor Penning, QB Kenny Pickett, and WR Jalen Tolbert.
Which set would you prefer? Would you be happy with Mel Kiper's mock draft if the board fell that way for New Orleans? Let us know in the comments. Send me presents.