The Ashley Marie Collection – Natural Hair Care for Gen Z by Gen Z
As a new generation of beauty consumers emerges, the beauty industry is undergoing a significant transformation. Gen Z consumers, in particular, are highly conscious about the ingredients in their beauty products. With a population that accounts for almost 30% of the world, Gen Z (born roughly between 1996 and 2012) are a major focus for several brands.
The desire to be environmentally and socially aware, has led to a change in this generation's values and spearheaded the movement, urging companies to take action on the climate crisis. This is not merely rhetoric. Based on a survey conducted by Capgemini, in 2021, approximately 69 percent of surveyed participants belonging to Generation Z stated that they were willing to spend more on health and beauty products that contain natural and clean ingredients.This trend has led to the rise of natural beauty products, and the Ashley Marie Collection is at the forefront of this movement.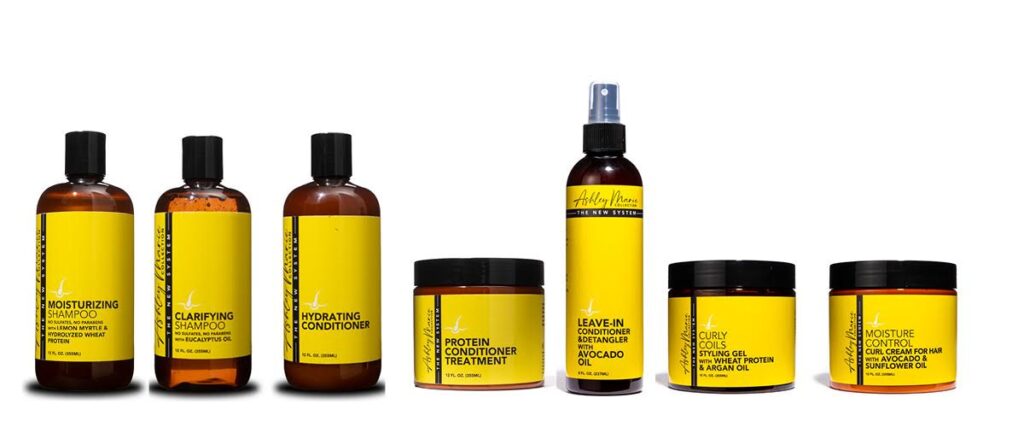 Created by 17-year-old entrepreneur Ashley Marie Gibson, the Ashley Marie Collection features a range of natural hair care products that cater specifically to the evolving needs of Gen Z consumers. Don't be fooled by her young age – Ashley is a total boss. As a Gen-Z entrepreneur, Ashley is passionate about creating products that use natural ingredients and prioritize health and well-being. The Ashley Marie Collection reflects Gen Z's preference for natural and eco-friendly products with its commitment to using only the cleanest, ethically sourced ingredients. All products are cruelty-free, color-safe, paraben-free, sulfate-free, and formulated with natural ingredients.

If being clean wasn't enough, this brand checks off another box – being diverse and inclusive! The Ashley Marie Collection is an entire hair care line specifically for 4C hair, a hair type that is often overlooked in the beauty industry. The line features a range of uniquely formulated products, including a Clarifying Shampoo, Moisturizing Shampoo, Hydrating Conditioner, Protein Conditioner, Leave-in Conditioner, Coil Cream, and Curly Coil Styling Gel. All of which work wonders for kinky, thick coils and will leave strands feeling and looking even better!
Gachi Angeles: An Innate Storyteller Breaking Barriers with Method Acting
Peruvian actress Gachi Angeles has made a name for herself as an emerging talent in the world of theater and cinema. Born in Lima, Gachi's journey has taken her from a modest upbringing in the naval village of San Borja to the classrooms of the renowned Lee Strasberg Theatre & Film Institute in Los Angeles.
This accomplished 20-year-old actress, whose full name is Gracia María Angeles Zuñiga, has become known for her dedication to dramatic arts and her commitment to «Method Acting,» a system of acting that involves a profound and emotional immersion into the character.
A defining moment in her career was when she was awarded the «Legacy» scholarship at the Lee Strasberg Theatre & Film Institute. This highly sought-after scholarship is a testament to Gachi's hard work and talent, reflecting her exceptional range and versatility as an actress.
Applying for the «Legacy» scholarship was a rigorous process that required Gachi to showcase her abilities through two monologues.
The purpose was not only to display her talent but also to demonstrate her range and versatility as an actress. Winning this scholarship meant more than just financial aid—it was a validation of her talent and an affirmation of her potential in the industry.
During her time at the Institute, Gachi deeply embraced Method Acting, incorporating it into her acting approach. This technique has had a profound influence on her career and even her daily life. In particular, she frequently employs the sensory work and emotional memory techniques originating from Method Acting when preparing for a role.
At the Institute, she had several experiences that not only helped her grow as an artist but also allowed her to engage with industry professionals. From auditioning for theater and cinema, listening to renowned actors share their incredible careers, to participating in short film productions and theater plays, she was exposed to a world of professional work that further honed her skills.
One significant connection she made at the Institute was with a creative director and theater producer who eventually became her mentor. Not only did he teach her the intricacies of Method Acting, but he also opened doors for her within the industry.
The impact of this experience on her life and career is immeasurable. Beyond acquiring a powerful tool for her artistry, she formed close friendships and collaborated with remarkable artists. Many of her teachers were professional actors, providing her an invaluable insight into the industry.
Going forward, Gachi has ambitious plans in alignment with her training at the Institute. She aspires to perform in future theater productions and has plans to work with her mentor, Paul, again in the near future.
In the ever-evolving world of acting, Gachi Angeles exemplifies perseverance, talent, and dedication to the craft. Her accomplishments thus far are only the beginning of a career that promises to continue dazzling us.
Thule Air Base Gets a New Name: Pituffik Space Base
The northernmost U.S. military base in the world has a new name, and it's even harder to pronounce than the old one: Thule Air Base was renamed Pituffik Space Base on April 6.
Pronounced "Bee-doo-FEEK," the new moniker reflects the Inuit native people's name for the settlement where the Greenland base was built and recognizes the base's primary role in support of space missions.
Located nearly 700 miles north of the Arctic Circle, Pituffik has been home to U.S. Air Force personnel since the early 1950s, where its strategic location makes it vital to missile defense and space domain awareness. Pituffik hosts the 12th Space Warning Squadron and its Upgraded Early Warning Radar, and Detachment 1 of the 23rd Space Operations Squadron, which does telemetry, tracking, and controls dozens of satellites.
Pituffik's original Inuit residents were forcibly relocated in 1953, a history that remains controversial in Greenland to this day.
The base's former name, Thule, came from explorer Knud Rasmussen early in the 20th century, a reference to Greek and Roman maps that cited a mysterious northern island called "ultima Thule"—named for an ancient Greek explorer who sailed far north and landed on an island whose name he heard as "Thule.
"This renaming represents our wish to celebrate and acknowledge the rich cultural heritage of Greenland and its people and how important they are to the sustainment of this installation against the harsh environment north of the Arctic Circle," Chief of Space Operations Gen. B. Chance Satlzman said at a ceremony unveiling the name change.
Greenlandic Minister for Foreign Affairs, Business, and Trade Vivian Motzfeldt attended the ceremony and hailed the change as important for Greenlandic culture.
"With the decision to rename, the U.S. has demonstrated its respect to the friendship between us, recognizing cultural heritage, and the history of the base," Motzfeldt. "I hope that this day will serve as an example of the ability of great nations to listen to even their smallest neighbors. … Today the U.S. has proclaimed to the world, that here lies Pituffik Space Base, where even this far north, there is a people, and they have a name for the place from where we keep watch over all our peoples."
About 140 Airmen and Guardians are stationed at Pituffik, plus some 450 contractors, civilians, and military personnel representing Denmark, Canada, and Greenland. The base is completely locked in by ice and mostly shrouded in darkness for nine months out of the year.
Pituffik got some rare public attention in the past year, hosting late night TV host and comedian Stephen Colbert for a special in December and F-35 fighters, which landed there for the first time in January.
Pituffik is the latest Space Force installation to be renamed. Others include:
Peterson Space Force Base, Colo.
Buckley Space Force Base, Colo.
Schriever Space Force Base, Colo.
Cheyenne Mountain Space Force Station, Colo.
Patrick Space Force Base, Fla.
Cape Canaveral Space Force Station, Fla.
Vandenberg Space Force Base, Calif.
Cape Cod Space Force Station, Mass.
Cavalier Space Force Station, N.D.
New Boston Space Force Station, N.H.
Clear Space Force Station, Alaska
Kaena Point Space Force Station, Hawaii
Los Angeles Air Force Base, Calif., which hosts Space Systems Command, is expected to be renamed, as well. No word yet, though, on when that might happen.
Millennial Daria Dana Taps into Jewelry Industry with Zigleys
Within African American communities, hair is not—and will never be—just hair.
Black hair has several identities. It is pride, identity, and culture. It's beauty standards, professionalism, and institutional discrimination. It's mental health, self-esteem, and history. It's wearing the label of "good" or "bad" hair upon birth and the impact it will have throughout your life.
But if you were to ask millennial businesswoman Daria Dana, she would tell you that Black hair is a crown. And she knows very well that every crown needs jewels.
This ingenious idea went from a mindset to a lifestyle as it became the key concept behind Zigleys, the most recent ode to natural hair! With an evocative tagline, this pioneering entrepreneurship aims to provide "Jewelry for Your Crown, Fit For Royalty" in the shape of 18-karat gold ornaments for locks, braids, twists, and other protective styles.
Tapping into uncharted and underserved territory, Zigleys has awed media outlets across the Internet. Among many others, the brand has been featured in Forbes One, MadameNoire, LA Weekly, Yahoo! Finance, The Source, Swagger, and more—each of them denoting the originality and high quality of the jewelry.
But Dana is not dazzling her path in the business world with just jewelry. Each item is more than hair pieces turned luxurious—they are a statement that aims to break stereotypes and showcase the sophistication and graceful aesthetics of Black hair.
"For so long, we have heard that black hairstyles are unprofessional," says the beauty founder Dana to This is 50. "Truly, we don't need hair jewelry to tell us that's not true. But I argue that black hair is compatible with luxury and professionalism."
And her argument is sound, as Zigley provides professionalism and lots, lots of luxury. Black luxury.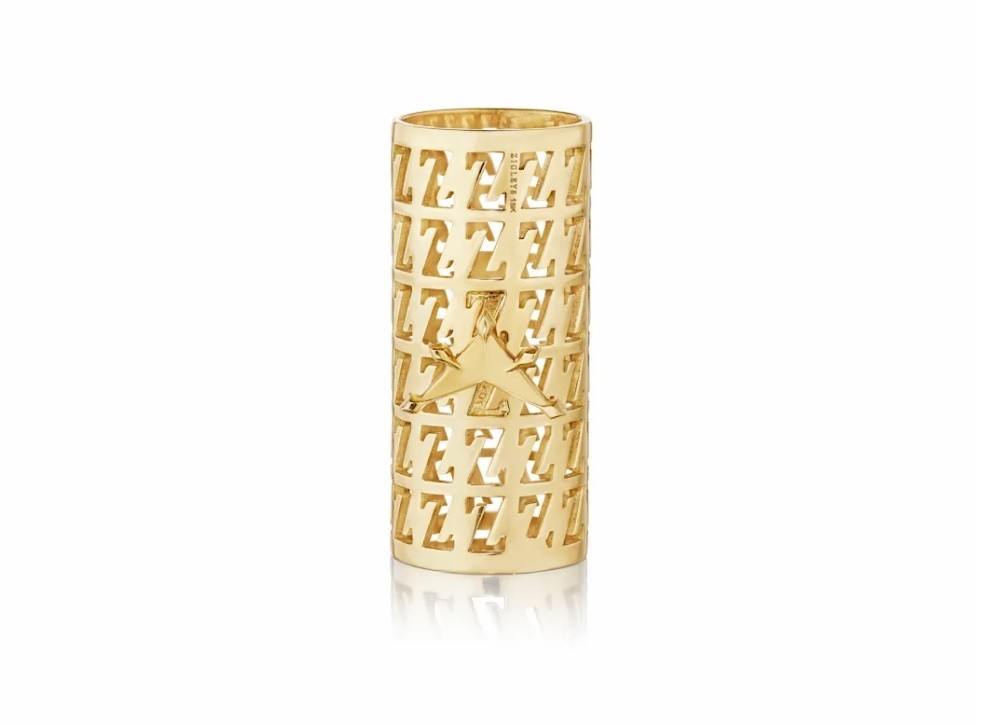 The Premier collection features ten striking statement pieces with timeless beauty, ranging from minimalistic gold cuffs to eye-catching ones with embedded diamonds. Likewise, the pieces come with a screw attachment to safely secure them to locs, braids, or twists.
Each cuff is expertly handcrafted and made to order in 18-karat solid gold, and the diamonds used in some of the pieces are natural and average .37 carats. Of course, all items are sustainable and ethically sourced, created in New York for the rest of the country.
With prices ranging from $990 to $4,250, Zigleys' artistry is undoubtedly an investment that may seem opulent. However, Dana challenges that notion by highlighting the importance of hair decorations for African-American culture, derived from Black ancestry.
"Our ancestors wore real gold in their hair, among other things," says Dana to MadameNoir, "but somewhere along the line, something got lost."
And so, Zigleys is set to reclaim it, creating heirloom pieces that are undoubtedly and unapologetically Black.
Zigleys is a Black-owned and woman-owned business, but also a love letter to the unmatched beauty of African-American hair and culture, made by a POC team with the mindset of elevating protective hairstyles to the next level of luxury.
To know more about the brand, visit the official website at www.zigleys.com. Likewise, you can follow Zigleys on social media by checking their Facebook, Instagram, and Twitter.