Dainja, Mayer Lead Illini Past Michigan State University of Illinois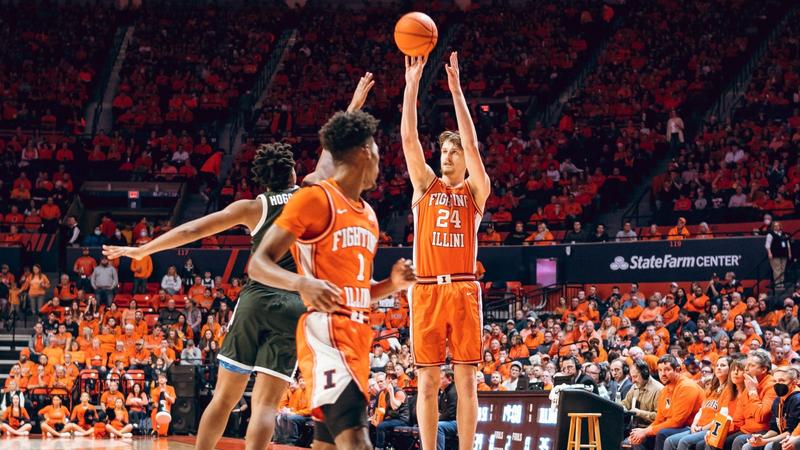 CHAMPAIGN, Ill. – Big second-half performances from Dain Dainja and Matthew Mayer propelled Illinois to victory on Friday night, with the Illini taking down Michigan State, 75-66, at State Farm Center. Illinois outscored the Spartans by 13 points in the second half, while three Illini finished in double figures.
Dainja scored 12 of his team-high 20 points in the second half, while Mayer recorded 14 of his 19 points in the final 20 minutes of action.
The Illini defense was a significant factor once again, recording 10 blocks and four steals. Mayer led the way with a career-high six blocks, while Jayden Epps grabbed a team-high two steals. Illinois also held Michigan State without a 3-pointer, as the Spartans went 0-for-7 from beyond the arc.
Terrence Shannon Jr. scored 17 points in the victory, his 14th double-figure scoring performance this season. Jayden Epps added seven points off the bench and tallied a career-high five assists, and Coleman Hawkins registered nine points and eight rebounds.
Illinois also took care of the basketball, recording a season-low five turnovers.
Shannon took control on the offensive end, scoring 15 of the Illini's 19 points through the opening 10 minutes of first-half action. Shannon got shots to fall from all over the floor, finding the basket in the paint and from beyond the arc. The Illini led by as many as five points in the opening half, but the Spartans ultimately took a 37-33 advantage into the break.
Mayer asserted himself on the defensive end of the court, making four blocks in the first half, the most he has registered in a game this season. Illinois recorded seven blocks and two steals in the opening 20 minutes of play.
Down by nine with 14 minutes to play, the Illini offense slowly started clawing its way back. Four straight points from Hawkins cut the Illinois deficit to five, and that spark was the start of a big Illini run.
Illinois used a 10-0 run to turn what was once a nine-point deficit into a five-point advantage with under eight minutes to play. Mayer was a big reason behind that stretch, scoring eight points during the momentum-swinging run to bring the State Farm Center crowd to its feet.
Michigan State responded and tied the game at 60 with under six minutes to play before a 5-0 Illinois run, which included a Hawkins triple and a Dainja second-chance layup, put the hosts ahead by five with four minutes to play.
Dainja continued his strong second-half showing by hitting a jumper to bring him up to 20 points. The Illini then thwarted the Spartan comeback bid by closing the game with an 8-2 run, giving Illinois its third consecutive Big Ten win.
Now 3-3 in conference play and 12-5 overall, Illinois travels to Minneapolis to take on Minnesota on Monday night. Tipoff is scheduled for 5 p.m. CT.
Two really good teams. Went about how those games should. I thought there were some very interesting opportunities tonight before the game going in because they can play really big, and they can play really small. We can do the same thing, so I thought there was a little chess match within the game itself.
"Obviously I loved our defense the last 10-12 minutes of the game. They told me it's been 15 years since we have held the team without a three. It was a very big step for us coming into the game. Michigan State was 11-1 if they make more than five threes; they were 1-3 with under five. Stay home with their shooters was something we spent a lot of time talking about. The other glaring statistic, other than us getting pounded on the glass, was that they had four assists. They average 16. We were good with them shooting midrange twos all night.
"I'm really proud of Matthew. He's got himself into shape where he can play 29 minutes. He played extremely intelligent because I had to play in the first half with two fouls, and it's not very often that you get a perimeter player with six blocks. It wasn't just his offensive numbers. He had six blocks tonight. Dain, I thought, was terrific. He had a few mishaps in the first half in ball-screen coverage, in our drops that he usually doesn't make. We really challenged him at halftime because he didn't have a defensive rebound. Most everybody in this room has seen Dain be a dominant rebounder. We need that for him. Again, I thought Coleman was tremendous on the defensive side. Four offensive rebounds, eight total. He's playing a ton of minutes.
"We beat a really good basketball team tonight. The last thing I'll mention is our five turnovers. That helps when you get a shot at the rim, not turn it over, and it was a big piece of tonight's game."
On the execution and game plan down the stretch:
"Get the ball to Matt. We literally ran one play probably 12 times, and we ran two different variations off of it. They made a little change, and then we just ran Matt into a post-up. We liked Matt with Akins on him, with that matchup. Our execution, I thought, was very good. We got a couple offensive rebounds that were huge. We found Dain in a couple of deep post-ups when those options broke down. I thought it was very, very good, and then I thought our defense was solid as well."
Matthew Mayer
On his second-half performance:
"It felt great. I just got a good little bucket, and then Coach Underwood started running plays for me. He's one of the best coaches I've seen at running plays for people that are hot. We were just running the same play every single time for like 15 straight possessions."
On the team's adjustments and improvements during the winning streak:
"I think it's night and day. I think we have incredibly talented players. I think everybody knows that. It was just a matter of making a few adjustments on offense and defense. I definitely think from some of those losses, we had to look at what we were doing and change it up a little bit. I still truly believe we can win a national championship."
On adding shot-blocking abilities to his repertoire:
"I started to figure out how to block shots last year. I have to be honest, my shot-blocking ability has completely come from Coleman Hawkins. I am not lying. In practice, I would never get my shot blocked. That was my thing with my jump shot, and Coleman blocked two of my shots in a row. I've learned how to block shots off one foot and time different things. I really watch Coleman, and personally I think I'm more athletic than Coleman, and when you add the two together, it's just fireworks."
Dain Dainja
On wearing down opposing defenders:
"I definitely felt like I wore them down a little bit. I talked with some of the coaches, and they just wanted me to get a deeper position down there. They know I'm so effective down there. The lower I am, the easier it is."
On getting more minutes:
"As the game went on, as I was getting more looks and more touches, I got going a little bit. All the work I put in this summer, it's definitely paid off. I feel good."
Ukraine war live updates: Biden says 'Kyiv stands strong;' Putin suspends nuclear arms treaty with U.S.
U.S. President Joe Biden visited Poland on Tuesday, reaffirming his commitment to Ukraine and contending Moscow would "never" win as the one-year anniversary of Russia's invasion approaches.
His remarks come a day after he made a surprise visit to Ukraine's capital Kyiv. Biden met with Ukrainian President Volodymyr Zelenskyy and announced a new military aid package worth about $500 million.
Earlier, Russian President Vladimir Putin offered an assessment of what he calls Moscow's "special military operation" in Ukraine, and its effect on Russia's economy, during his state of the nation address Tuesday. Putin claimed Ukraine and the West provoked the conflict with the expansion of NATO and new European anti-rocket defense systems.
"They started the war, and we used the force in order to stop it," Putin said, according to a translation of the speech in Moscow.
During the address, Putin also said Russia was suspending its participation in the New START treaty with the U.S. that limits the two sides' strategic nuclear arsenals. U.S. Secretary of State Antony Blinken later dubbed the decision "deeply unfortunate and irresponsible."
Elsewhere, China's top diplomat, Wang Yi, is due to visit Moscow on Tuesday. He may meet with Putin, according to Russian officials.
Roster Finalized for 2023 Senior Bowl
Senior Bowl week has arrived! Coaches, scouts and executives will be traveling to Mobile, Alabama, for one of the first glimpses of comprehensive player evaluation. College football players will strive to make a mark as potential additions to NFL rosters. In 2023's annual college all-star game with 120-plus participants, practices will be held from Jan. 31 to Feb. 2 at Hancock Whitney Stadium on the campus of the University of South Alabama. The game will be held on Saturday, Feb. 4 (2:30 p.m. ET on NFL Network).
In 2022, the Senior Bowl featured 106 prospects who were drafted last April, which represented 82 percent of the prospects who participated in the event. Additionally, the Buccaneers drafted several players who participated in the 2022 Senior Bowl, including Logan Hall, Luke Goedeke, Rachaad White, Jake Camarda and Zyon McCollum. Among the players participating this year, TCU's Max Duggan is one of the hottest names after a sensational 2022 campaign, despite struggles in the national title game. Tennessee's Hendon Hooker would have been a strong candidate to play in the exhibition, but he suffered a season-ending ACL tear in a loss to South Carolina in November and is currently undergoing rehab.
One of the apparent strengths of the 2023 Draft Class is pass rushers, evidenced by the group in Mobile. Among the group's top penetrators are Texas Tech's Tyree Wilson, Army's Andre Carter II, Ohio State's Zach Harrison, Notre Dame's Isaiah Foskey, TCU's Dylan Horton, Auburn's Derick Hall and Tennessee's Byron Young.
The one-on-one battles in the trenches during the all-star game always add intrigue and this year presents a promising group of young offensive tackles including Maryland's Jaelyn Duncan, Syracuse's Matthew Bergeron, Michigan's Ryan Hayes, USC's Andrew Vorhees (who also plays guard) and North Dakota State's Cody Mauch.
The 2023 class of running backs has garnered attention, with several standouts among the compilation. Georgia's Kenny McIntosh has a talented upside as a receiver and Illinois' Chase Brown ranked fourth in the FBS in rush yards (1,643) this season. Kentucky's Chris Rodriguez Jr. is a powerful rusher who averaged 6.2 yards per carry in his career and Oklahoma's Eric Gray ran for 1,366 yards in 2022. Tulane's Tyjae Spears finished with eight straight 100-yard rushing outings and Texas' Roschon Johnson, who split time with star Bijan Robinson, became one of the best change-of-pace rushers.
Here is the full roster for this year's Senior Bowl participants:
Tom Brady, the most accomplished player in NFL history, announced his retirement on Wednesday morning and made it clear that, unlike last year, he will not be changing his mind this time.
A look down memory lane of Tom Brady's prolific and unprecedented career
Keep informed with our daily updates: News, notes and more.
Greater Baltimore development projects to watch in 2023
CFG Bank Arena
Drumroll, please. The $200 million redevelopment of the downtown arena is in its final stages as the Feb. 21 deadline for the overhaul approaches.
The project by Los Angeles-based Oak View Group has been moving at a breakneck pace since June 2022 after the job was awarded by city leaders.
The arena's doors will reopen for the tipoff of the 2023 Central Intercollegiate Athletic Association (CIAA) men's and women's basketball tournaments and the work is anticipated to bring more feet to downtown streets. Oak View inked a contract with the city to run the center for 30 years and its vision for change at the 60-year-old facility includes a new sponsorship and name with the local CFG Bank, new interior seating, a new performance stage and upgraded and reimagined food and beverage areas.
The project has attracted big-name investors like NBA star Kevin Durant and his manager Rich Kleiman, rapper and record producer Pharrell Williams and Ravens Hall of Famer Ray Lewis. All have pledged to help recharge the arena's cache in Baltimore with superstar bookings. First up is Bruce Springsteen and the E Street Band who will rock the new hall in an April 7 concert.
Harborplace.
Change is coming (at last) to downtown's once-iconic landmark at Pratt and Light streets.
MCB Real Estate will get the keys and take ownership of the three-acre Inner Harbor development likely in the first quarter of this year and is expected to launch a series of public forums on how best to transform it for future generations. Look for the operative word to be local — as in all things Baltimore-based like new eateries, java hotspots, breweries and retailers, MCB's founder P. David Bramble has said over the past several months.
Overall, what will the future of the well-placed property hold? That is still up for discussion as part of its ongoing reimagining. Could the pavilions be torn down? Could the property hold some residential units? A reconfigured waterfront berm to ward off rising sea levels? A new park with some more green space and a vehicle-free portion of Pratt street each weekend?
Stay tuned.
Lighthouse Point Marina
A new casual waterfront restaurant and about 150 new boat slips will open this spring on Boston Street in Canton as part of a $40 million redevelopment of the popular marina by Monument Marine Group.
The 25-year-old marina is under redevelopment this winter, said Tom Wood, managing partner of Monument Marine Group, which acquired a majority of the marina last April for $10 million. Wood said the tiki bar at the marina and Bo Brooks restaurant are also being overhauled and will reopen in the spring with a new concept and local ownership, who he declined to name because the deal was still in the works.
A second phase that will upgrade 250 more boat slips at Lighthouse Point will launch later this year with a 2024 goal for completion, Wood said.
"We will have new dockage, created by Meeco Sullivan, fully revamped electrical power sources in the slips and new pump out facilities," he said, of the work ahead.
State Center leases
With the first wave of state employees arriving in new offices at 25 S. Charles St. this year, more are on the way.
The migration from State Center into about 1 million square feet of downtown office space will be in full swing this year with more new office spaces being outfitted for the workforce and the public they serve.
The push a couple of years ago by Gov. Larry Hogan to help repopulate vacant office space in the central business district is being seen as the real estate version of a Hail Mary pass for Baltimore's core, which has struggled with a double-digit vacancy rate for years due to the pandemic as well as the exit of large companies to Harbor East and Harbor Point.
About 700 workers from the Department of Human Services are the first to unpack this winter onto eight floors at 25 S. Charles St. That 22-story tower was rendered nearly vacant in 2018 by M&T Bank's move around the corner into newer digs.
In the works this year will be a push to ready space for 2,400 more workers from State Center into other downtown spaces. Some include the Department of Assessment and Taxation into 48,000 square feet at 700 E. Pratt St.; the Department of Health's 1,000-person workforce into 463,000 square feet at Metro West and 126,430 square feet at 100 S. Charles St. for two agencies, the Department of Labor and the Department of Information Technology.
Harbor Point.
Look for the 27 acres sandwiched between Fells Point and Harbor East to be a beehive of development.
Work at Harbor Point by Armada Hoffler and Beatty Development is in full swing to fill out the eastern portion of the site off Caroline Street. In the works are a 152-key extended-stay Residence Inn by Marriott, a new park, and two apartment towers, one a 206-unit, 200-foot development and the other a 312-unit, 250-foot tower. A 1,250-space parking garage is also under construction at the base of the larger tower. All are expected to open by early 2025.
But there's more.
A block away, cranes dot the sky to build the exterior of the new 550,000-square-foot global headquarters for T. Rowe Price (NASDAQ: TROW) on the waterfront. There, the modern, seven-story, U-shaped development will be completed for the financial giant's workers in 2024 as they move from downtown's central business district after 49 years.
Penn Station
A nondescript flat-surface parking lot off Lanvale and St. Paul streets will begin to transform into a sleek, modern Amtrak station this year as part of the large-scale overhaul of the Penn Station footprint in Midtown.
The new addition to the busy station is part of work to modernize and reimagine the historic train station and will serve travelers on a new high-speed Amtrak line along the Northeast Corridor. The service is being hailed as a game-changer for the city because it is hoped to bring more retail and residential to the area given Baltimore's affordability compared to Washington, D.C. and Philadelphia.
The overall Penn Station project kicked off with great optimism in 2022. Soon, scaffolding encased the granite exterior to clean and repoint the facade as a gussy-up ensued. Inside, architects worked on plans to redo the main floor's waiting areas, retail spaces and ticketing windows and to add office space to two upper levels that have been vacant for decades. Look for new tenants to commit to some of that space in the coming 12 months.
Locke Insulators
Demolition of the hulking, red-brick industrial plant at Port Covington will begin this winter. Coming soon will be two apartment buildings with a total 425 units.
The move is the latest at the South Baltimore peninsula that is being transformed by a mega, 235-acre redo of the property by an investment group led by Under Armour founder Kevin Plank. It is being shepherded by Mark Sapperstein, whose 28 Walker firm has reshaped and redeveloped most of Canton with new retail and residential, as well as parts of Locust Point.
Locke Insulators announced it was closing the plant at 2525 Insulator Dr. in 2017. Sapperstein acquired the property last year and unveiled a vision to build 800 new residential units on 25 acres beginning in 2023. He signed a deal to develop the apartment towers with Greystar Worldwide LLC. Look for the project to welcome tenants by mid-2024.
Great Wolf
Look for the opening of a massive Great Wolf Lodge off Interstate 95 in Perryville this summer.
The $250 million resort and waterpark will be the largest in the national chain's portfolio and its 20th location.
Reservations are now being accepted for the 700 suites now getting their final touches at the resort alongside a 128,000-square-foot waterpark with 22 slides. There is also 12,000 square feet of conference space with breakout rooms and a 57,000-square-foot entertainment center called the Great Wolf Adventure Park with a bowling alley, arcade, high ropes course and interactive scavenger hunt. The resort will have several eateries and a 350-seat fine dining restaurant as well as two bars. A fireside storytime session will be held each night in the grand lobby.
Great Wolf is transforming the once-rural corner of Cecil County next to the Hollywood Casino Perryville into a destination spot, said Nadine Miracle, general manager for the property, in January. A total of 850 new employees will be hired this spring for the resort that is eyeing an Aug. 1 opening day.
"This project is the best we've built," Miracle said. "We have taken the best of what we've learned over the years at other Great Wolf lodges and built them in here."
Tradepoint Atlantic
Work to redevelop the 3,300-acre former Bethlehem Steel plant near Dundalk into a global commerce hub will move forward this year with construction of a 165-acre container terminal.
The $1 billion terminal project kicked off in 2022, but will continue to take shape in the coming 12 months. When completed, the facility will bring 1,000 new jobs to Tradepoint Atlantic and serve to support container flow and other work now centered at Seagirt Marine Terminal and the Port of Baltimore nearby.
Downtown Columbia
The four-story, medical office building on Lake Kittamaquandi will be among the main centerpieces in the works this year as part of the ongoing $5.5 billion transformation of Downtown Columbia.
The 86,000-square-foot building broke ground in late 2022 by developer Howard Hughes Corp. (NYSE: HHC) in the Lakefront District portion of the project. Another large-scale project likely to kick off in 2023 is 6300 Merriweather, a 16-story timber and glass office building that will be located in the Merriweather District. Nearby, a new arts center is expected to break ground by Howard County on the site of Toby's Dinner Theater.
Also in the works in the coming 12 months is planning and the potential beginning of construction of a $280 million apartment project, also in the Lakefront District.
Metro Centre.
The large development off Interstate 795 in Owings Mills will continue to grow in 2023.
Another apartment tower, The Willard, is expected to open this year with 227 one- and two-bedroom units. The development sits near Metro Centre's new Marriott hotel, which opened in late 2021 and is nearly fully booked for events each weekend of this year, said David Adler, principal at David S. Brown Enterprises Ltd., the developer of Metro Centre.
By the end of the year, Adler said he and Howard Brown, his grandfather and partner, are planning to break ground on a new 12-story residential tower at Metro Centre, to sit near the Metro station in the transit-oriented development.
Annapolis City Dock redevelopment
This $40 million overhaul of the City Dock is progressing this year and will transform the popular waterfront area at the foot of historic Main Street into a new park.
Front and center in the massive project is a rebuild of the water's edge with a mission of adding another layer of protection against Chesapeake Bay storm surges and flooding due to climate change. A new pump station and stormwater drainage system will be built there to assist new, unique hydraulic storm surge gates that are also being installed.
All will be included in a new public park at the dock that was designed by Mahan Rykiel as an elevated green space that will be functional and provide new vistas for visitors. The work by developer Hunt Companies is expected to be completed in 2024.
Madison Park North
This transformational redo of a troubled apartment complex once dubbed "murder mall" on North Avenue will take shape in 2023.
The ground-up construction of the first phase will hold 120 townhomes built by Ryan Homes for developer partners MCB Real Estate, MLR Partners and Atapco Properties. The homes will list between $350,000 and $400,000 and stretch up to four stories with a garage — a welcome reversal of fate at the site that once held the 202-unit Madison Park North apartments that were razed in 2017.
Future phases to convert the 8-acre Madison Park North site include the development of 200 apartments for mixed-income tenants, about 100,000 square feet of office space and a grocery store.
Mondawmin Mall
The $25 million redevelopment of a former Target store at Mondawmin Mall will produce a new community center aimed at transforming a corner of West Baltimore this year.
This project has been deemed a fresh start for the site that has remained vacant since the national retailer closed it in 2018 after listing it as an "underperforming store." Enter Tim Regan, CEO of Whiting-Turner Contracting Co., and Calvin G. Butler Jr., CEO of Exelon Corp. with a plan to transform and reshape the store into The Village at Mondawmin.
Other signs of a turnaround are also present nearby: JPMorgan Chase & Co. opened a special branch at Mondawmin Mall in December that will offer banking as well as community gathering space. There are also plans in the works to rehab Frederick Douglass High School by the Maryland Stadium Authority under the 21st Century Schools Program.
Perkins Homes
Demolition of the former public housing complex north of Harbor East will continue in 2023 to make way for a new residential hub that will hold modern mixed-income apartment units, a public park and a new elementary and middle school.
The project is part of a $1 billion redo of 244 acres in East Baltimore aimed at reshaping and upgrading some of Baltimore's long-ignored communities: Perkins Homes, Somerset and the Oldtown Mall.
In addition to the overhaul of the Perkins Homes site, a second apartment tower at the former Somerset Homes public housing footprint will open in 2023 off Central Avenue and new retail for the area is also in the works. The massive project is being spearheaded by several developers and public agencies including Henson Development Co., Beatty Development, Cross Street Partners, McCormack Baron Salazar and the Housing Authority of Baltimore City.